JUNIOR NATURALIST & CITIZEN SCIENCE MONITORING
Upcoming training in April for Caterpillars Count monitors!
See table below
One of the missions of the Friends group is to maintain a conservancy for nature study and environmental education, using the natural habitats of the park as an outdoor classroom. Community science monitoring programs are a means to collect information about natural phenomena occurring on park grounds and landscapes. Information collected will contribute to broad-scale ecological research efforts within state and regional networks. If you like to spend time outside, learn and contribute to scientific discoveries and make connections with the natural world, this is the program for you!
The table below shows some of the typical citizen science projects we undertake at the park. Contact the park office to learn about how to get involved. No experience necessary. Training, data sheets, and supplies will be provided. Ideal activity for Master Naturalists, Master Gardeners, classes, families, service groups and scout troops.
Project
Frequency
Time
Equipment
Training*
Caterpillars Count
monthly or bi-monthly
1 hour
sampling sheet, ID cards, beat sheet

Minimal; April 30, 2021
4 - 5 pm
REGISTER HERE

Monarch Larvae Monitoring
weekly or bi-monthly from May to September
any; dependent on # of plants surveyed
sampling sheets, ID cards
Some; learn data sheet & caterpillar larvae stages
Great Sunflower Project
3 or more times during growing season
at least 5 minutes each time
sampling sheets, insect ID cards
Minimal
Lost Ladybug Project
any
any
camera (phone is fine), ladybug ID cards, photo upload form
Minimal
WI First Detector Network Invasive Plant Species Reporting
monthly; depending on target species
1 hour, depending on plant species
phone with EDD Maps app installed (free)
Moderate; learn target plant ID & phone app (user-friendly)
*Unless indicated, contact the park office for individual or group training times.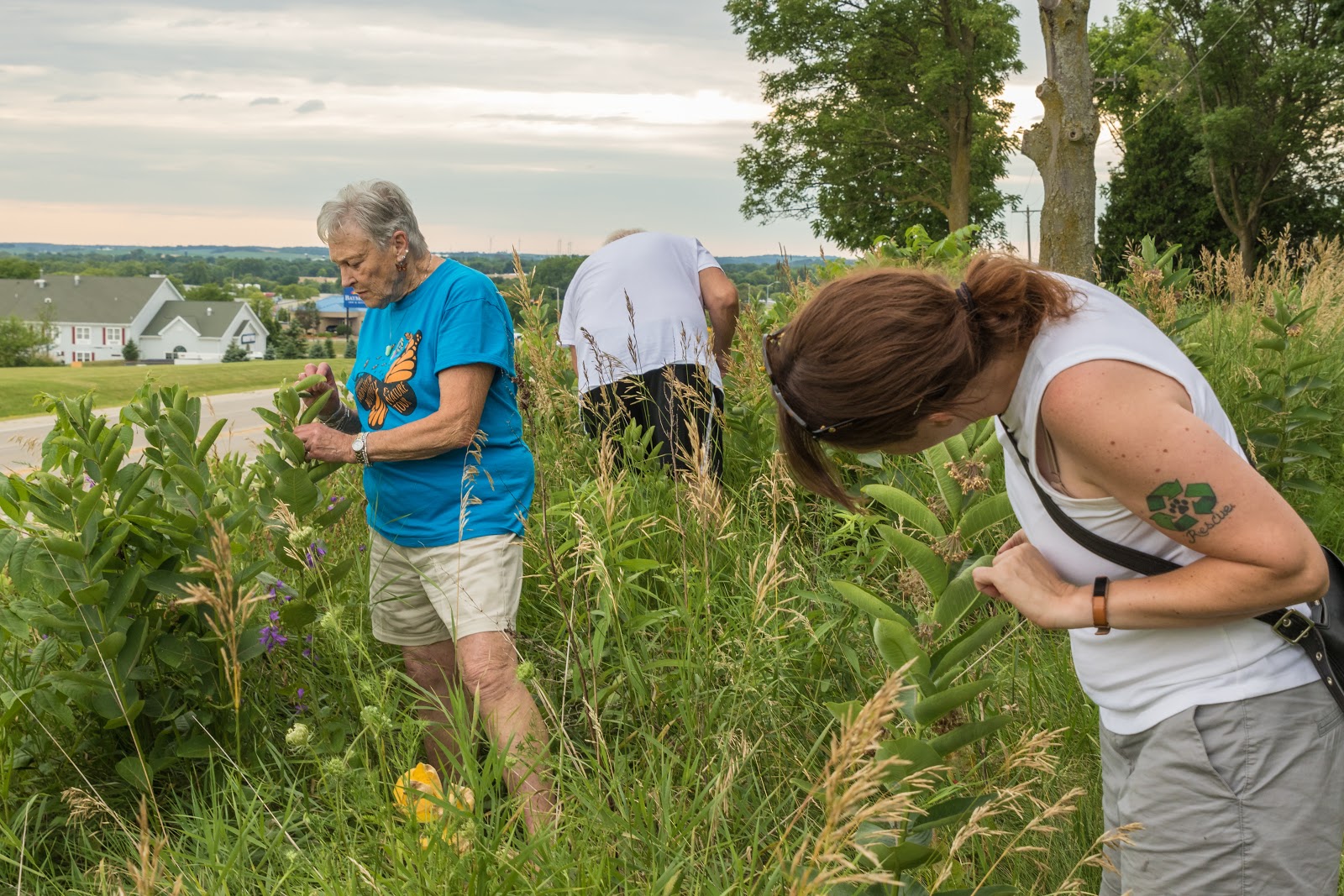 Left: Volunteer, Kevin Dupuis, collects data on insects (Photo credit: Amy Jo Dusick)
Middle: Children investigate prairie seeds and insect galls. (Photo credit: Travis Steuber)
Right: Gae Bergmann leads a search for monarch caterpillar eggs. (Photo: Rona Neri-Bergmann)